Pre-cut lace wigs are the latest super-hot wigs to hit the market in Tinashe Hair. Some customers who have already bought this wig recently have asked us how we can better maintain the pre-cut lace glueless wigs. This wig has the same maintenance as the traditional lace wig, but since pre-cut lace glueless wigs are not installed with glue, your maintenance will be simpler and less time-consuming. Below we will introduce this wig in detail, as well as share this wig's practical maintenance and cleaning technique.
What is a pre-cut lace glueless wig?
This wig does not need glue to install but is quickly fixed and installed with the adjusting belt inside the hair cap. It is very stable. After you are skilled, you can complete your wig installation within 30 seconds. And the wig is easy to disassemble. You can wear it in the morning and take it off at night. it's very simple.
The biggest feature and advantage of this wig is its pre-cut lace. Pre-cut lace will avoid some risks of cutting lace by yourselves, saving time and energy. Perfect for novices and time-pressed women.
Benefits of human hair pre-cut lace glueless wigs
Human hair can give your hair natural gloss and your maintenance will be much easier than the use of synthetic hair. The human hair pre-cut lace glueless lace is your best choice if you want to put less time and energy into maintaining it.
Features of pre-cut lace glueless wigs in Tinashe Hair
Upgrade Larger Lace, More Versatile
Pre-cut Lace Zero Skills Needed, Beginner Friendly
HD Lace Melted Perfectly
3D Dome Cap Stretchy & Breathable
Fast shipment
Large discounts
10A human hair 100% virgin
How do you wash pre-cut lace human hair wigs well?
Step 1: Use a comb to untangle hair
To untie each knot, carefully brush the high-gloss lace front wig from the bottom to the top with a wide-toothed comb or your finger. If you come across a tough knot, you can rub some essential oil into it to help loosen the knots. Disentangling enables optimal cleaning, saves time, prevents hair from breaking, and aids in repeated cleanings.
Step 2: Use warm water to soak
Instead of soaking your hair in hot water, use warm or cold water. Hot water can quickly change the gloss of your wigs and make your hair fibers expand, which causes a significant loss of nutrients. On the other hand, warm water makes it easier for shampoo and conditioner to work their magic and thoroughly clean the hair.
Step 3: Use shampoo
After soaking the wig, carefully massage your hair with some sulfate-free shampoo to remove any remaining grime. Use a sulfate-free shampoo, don't forget. Regular shampooing will strip the hair of its gloss and initiate the oxidation process. Instead, the sulfate-free shampoo preserves hair while cleaning it more gently.
Step 4: Thoroughly rinse the shampoo.
Warm water should be used to thoroughly rinse away the shampoo from the high-gloss wig from the root to the tip. Hair can be squeezed to get rid of extra moisture.
Step 5: Inject conditioner into the glossy wig.
Your high-gloss wig needs to be treated with conditioner, then you should wash it after letting it sit for a while. Applying conditioner to the wig's root could loosen the knot and make it fall out, so avoid doing so.
Step 6: Use cold water to rinse the wig conditioner.
The high-gloss wig should be properly cleaned with cold water to seal the moisture in the conditioner and the cuticle, prevent fading of the hair gloss and add shine. Squeeze the tow to remove excess moisture after a complete cleaning.
Step 7: Water absorption by towels
The hair from the high-gloss lace front wig can be placed on a towel and carefully squeezed from the root to the tip. Simply gently absorb any extra moisture with a towel.
Step 8: Drying your hair in the air
The best method for drying your wig is to let it air dry naturally. For speedy drying, you can also use a hot blower, but wear heat protection.
Step 9: Use the essence oil
You can apply some conditioner and essence to pre-cut lace human hair wigs to make your hair more lustrous, healthy, supple, and beautiful.
Useful tips to maintain your pre-cut lace wigs
Don't wash your hair too often
When you wash your hair, you remove the natural oils that keep it moisturized and fresh as well as some of the hair color.
Avoid washing pre-cut lace wigs every day if you want the hair to last longer; instead, try cleaning it two to three times per week.
Apply thermal protections timely
You must be cautious to prevent hair damage from high temperatures. High temperatures can harm hair by robbing it of its gloss and moisture. Therefore, you should use fewer heat-setting instruments. If necessary, put a hot protection agent on the surface before drying and shaping to avoid these issues while using hot tools. The thermal protectant spray helps keep the hair's gloss from fading by preventing moisture loss from the inside of the hair and protecting it from moisture after heat styling.
Avoid exposure to UV, chlorine, and seawater
Your hair may get dry, dull, and lose its luster as a result of ultraviolet light, chlorine, and saltwater exposure.   
When swimming, you should take precautions to protect your hair from chlorine and salt water, such as wearing a cap or conditioning your hair.
Wear a UV-blocking cap or carry an umbrella when you're out in the scorching sun to shield your bright wig. Additionally, you should be cautious to limit and avoid using ultraviolet tools in your daily life.
Minimizing the time that pre-cut lace wigs are worn
You shouldn't keep the same wig on for a long time; it needs time off and upkeep to give you a more attractive and natural appearance. To preserve each wig in good shape, you might prepare many wigs and then employ different techniques.
Take Care at sleeping time
When you're sleeping, it's best not to wear the pre-cut lace wigs because it's easy to remove and you can easily remove them and go to sleep. You should know that once the hair of the wig rubs against your pillow, it will make your wig dry, dim, and fall off. If you need to sleep with it, you should wrap it in a silk nightcap.
Wonderful pre-cut lace glueless human hair wigs in Tinashe Hair
Wear Go Glueless Lace Wig Pre-cut 5×6 4×4 Lace Curly HD Lace Closure Wig Beginner Friendly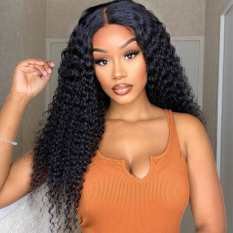 Wear Go Glueless Lace Wig Pre-cut 5×6 4×4 Lace Curly HD Lace Closure Wig Beginner Friendly | Tinashehair
The pre-cut wig has HD lace, human hair, pre-plucked hairline, and baby hair, which can make your very natural hair look and comfortable feel. Please don't miss this wig! The curly hairstyle is so hot that you will be most attractive among your friends.
Upgrade Wear Go 5×6/4×4 Glueless Lace Wig Pre-cut Lace Body Wave HD Lace Closure Wig Beginner Friendly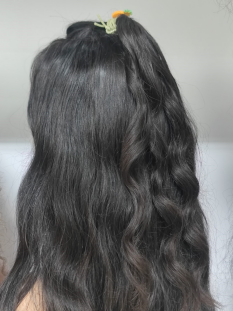 Upgrade Wear Go 5×6 / 4×4 Glueless Lace Wig Pre-cut Lace Body Wave HD Lace Closure Wig Beginner Friendly | Tinashehair
The body wave wig is a pre-cut lace wig. You can wear the wigs very quickly without 1 minute even if you are a beginner at wearing wigs. The body wave is very soft and elegant. Human hair can allow you to do all the hairstyles you want to try for its durability.
Final thoughts
Hopefully, you can learn how to care for your pre-cut lace wigs successfully and correctly. You can choose Tinashe Hair, a reputable wig brand if you need to get a high-quality pre-cut lace wig.