Today I'm gone share with you guys how I got this super cute half-up half-down style that was inspired by some Youtubers and I've just seen it a lot lately and it is so cute so I wanted to try it on myself.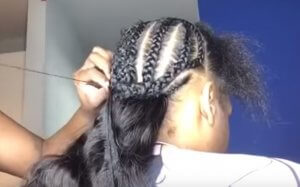 To start off I split my hair in half and then I braided the back section because I am goanna sew this hair in the braids to sew on the tracks. The hair that I'm using today was Tinashe hair Brazilian deep loose wave virgin human hair. I got their best quality weave Brazilian hair loose deep hair in the inches 20 22 22 24 and 20 lace front closure and I'm only using three of those bundles. The hair was super soft and the ends were so full. I believe I got really good bundle hair deals from Tinashe which is definitely best weave websites where you can get affordable virgin hair bundles. Now I'm just goanna go ahead and sew the tracks in the back and I'm using the two longest Brazilian virgin hair weave bundles and I doubled up the tracks, I would definitely recommend trying to fit two bundles in the back of your head if you can, I had like about one and a half curly human hair weave.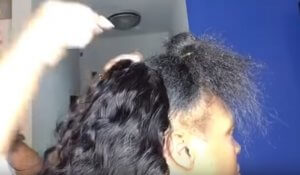 And the second step is to take the sections that I left out of my hair to cover those tracks and I'm goanna take those down and straighten these hair weave out. For doing my edges today I am using cream of Argan oil edge control to braids, it is not necessary if you don't need this.
Finally, I kind of like curling the hair because I really like full curls and then I just hairspray to all hair. I felt so popping on this hair, I love this Tinashe hair so much! Make sure you guys enjoy this video and check out the website to get all types of virgin hair textures below if you would like!