Now is the new beginning of 2023, and Glueless wigs is still popular. More and more people know and fall in love with glueless wigs. The biggest feature of this wig is that it doesn't need glue to install. Glueless wigs are diverse, convenient, fast, fashionable and durable. Today's blog will give you a comprehensive understanding of this wig, including what is glueless wigs, the advantages of glueless wigs, how to install and use this wig and how to maintain your glueless wigs. There are also very good glueless wigs recommended for you to check in the blog. Please continue reading.
What are glueless wigs?
Glue-free wigs refer to wigs that can be installed without glue. There are two main categories, one is glue-free lace wigs, and the other is glue-free lace wigs. Glue-free wig can save your maintenance and installation budget and save the corresponding time. And there are various kinds, which are very suitable for the fast-paced life rhythm, and very suitable for beginners to use.
What are high-quality glueless wigs?
High quality non-adhesive wig is made of 100% human virgin hair. The quality of hair determines the quality of wig. Human hair virgin hair is virgin hair collected from the same donor without chemical treatment. The cuticle of hair is in the same direction, very neat, and the hair is of high quality, which is not easy to split, dry and tangle. You can use human hair glueless wigs to create your favorite hair style or dye your hair, because high-quality hair materials are very durable. And you can use human hair glueless wigs for at least 2 years if you take good care of them.
Benefits of glueless human hair wigs
Wigs are very durable and have few hair problems. They are low-maintenance wigs.
You can save time in installing and removing wigs.
You can save some maintenance and installation costs.
You can install a wig without glue.
For glueless non-lace wigs, the price of wigs is very low, which is very friendly to your budget.
Suitable for busy women, lazy women and novices wearing wigs.
There are many types of products, and you have rich choices.
For glueless lace wigs, you have two ways to install wigs, which is very free, and the existence of lace will make you have rich possibilities for re-modeling.
How to install the glueless wigs?
For a non-adhesive wig, its biggest feature is that it is installed without glue. So how is this achieved? You can install your wig with the adjustment belt of the usual adhesive-free wig and the hairpin fixing device inside the hair cap. Please don't worry about whether the wig is unstable, because the fixing method of non-adhesive wig is enough to ensure that your installation is stable.
The follow are some steps of how to install the glueless wigs:
You should wash and dry your natural hair and wig hair once, and then remove the tangles with a wide tooth comb.
You need to weave your natural hair into a corn braid, then put it flat on the top of your head, and then put on a wig hat to make your head flatter, which can make your later hair look more natural.
You can put on your wig, find the correct position, initially fix your wig with the adjusting belt behind the hair cap, and then completely fix your wig with the hairpin.
If you have a non-adhesive wig with lace, you need to cut off your extra lace or leave some for extra styling. If you are a non-adhesive and lace wig, you can skip this step.
You can apply some essence to your wig to make the external light shinier, or you can choose to wear a headband or leave some baby hair to make your hair more natural and attractive.
You can also watch the video below to learn the steps to use your glueless wigs better.
How to maintain your glueless wigs?
Avoid overuse
You should avoid excessive use of glueless wigs, wigs should be regularly rested and maintained in order to last longer, you can choose more than two glueless wigs, alternate use.
Reject inferior hair care products
When you maintain your wig, you should avoid using inferior hair care products, as well as some hair care products containing chemicals harmful to hair, such as hair care products containing sulfate and alcohol, and so on.
You should wash your wig in time to remove the accumulated dirt from your hair and keep it clean and fresh. But be careful you don't over-wash your irritants, which can hurt your hair.
When you use or style a wig, be careful to avoid or minimize heat damage. High temperature can dry hair, tangles, damage hair tissue, etc. You should try to reduce the use of heat setting tools, do not use hot water when cleaning the wig, and in the hot sun to go out to wear a hat shade and so on.
You need to remember to wear a nightcap to protect your wig when you sleep, or your hair will easily rub against the pillow and cause it to dry, tangle and even fall off if it is serious.
When you are swimming in the swimming pool and the sea water, you should put on the swimming cap in time to avoid chlorine, salt water or other pollutants to the hair damage.
Popular styles of glueless wigs in Tinashe Hair
Glueless Curly Short Bob Wigs 100% Human Hair Wigs
Curly Human Hair Lace Front Short Bob Wigs | Tinashehair
Lace type: HD lace
Lace area:4×4/13×4
Hair length:8inch to 14inch
Hair density:150%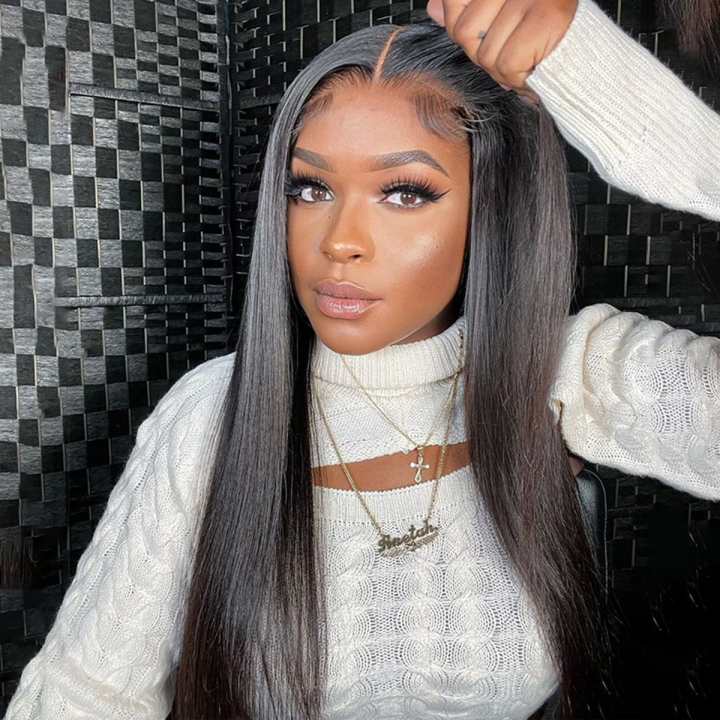 This wig is a glueless bob wig with the curly hair. You can get the full and dense hair look that you can be the stylish. You can wear this wig without glue, and you can also use the HD lace to make the most natural hairline.
Wear & Go Glueless Lace Front Straight Human Hair Wig Undetectable Lace
Wear & Go Glueless Lace Front Straight Human Hair Wig Undetectable Lace | Tinashehair
Lace type: HD lace
Lace area:5×5/13×4/13×6
Hair length:16inch to 30inch
Hair density:180%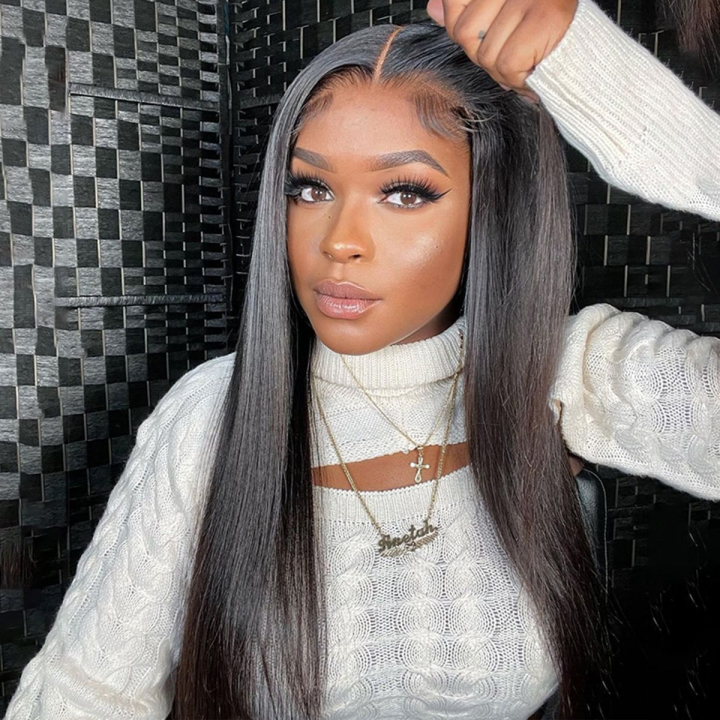 This wig is a silky straight wig with the length from 16inch to 30inch. And you can see the picture that the hair texture is very great, and the long length will make you elegant and attractive.
New Arrival Glueless Straight Lace Wigs with Bangs
New Arrival Glueless Straight Lace Wigs with Bangs | Tinashe hair
Lace type: Swiss Lace
Lace area:4×4/5×5/13×4
Hair length:18inch to 26inch
Hair density:150%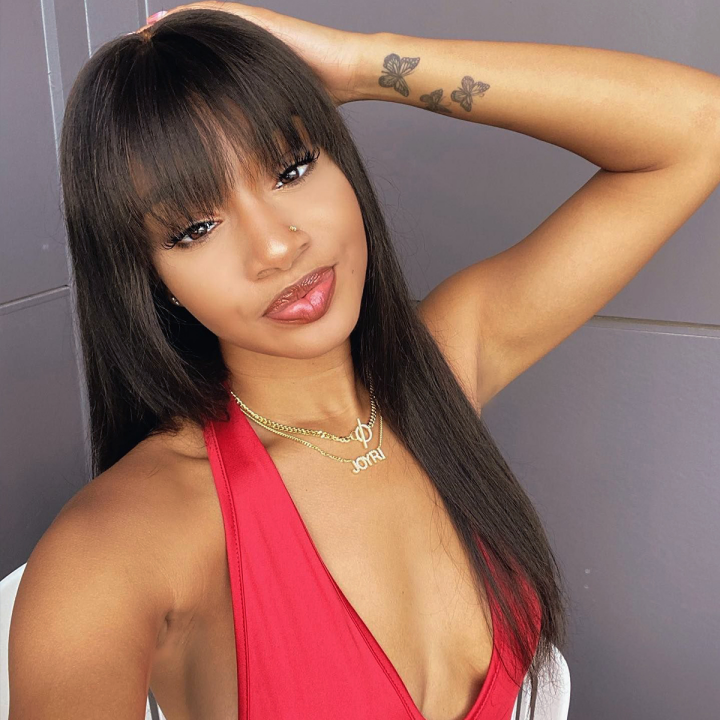 This wig is a straight wig with bang. You can get a natural hairline by the bang, and you can use bang hairstyle to make you facial features more balanced and prettier, increase the volume of your hair, and make your overall appearance more refined. And bang hairstyle can also make your appearance very lively.
Why trust Tinashe Hair?
Tinashe Hair is a wig shop with a good reputation and many customers. Many women have found their most suitable wigs in Tinashe Hair. Tinashe Hair has her own wig manufacturing factory and has more than 15 years of experience in wig manufacturing. All wigs are 100% virgin human hair. There are many kinds of wigs here. Besides the glueless wigs in this blog, there are lace frontal wigs, Lace Closed Wigs and Color Wigs, etc. If you come to make orders, you can use the coupon code GAD20 to get a 20% discount. Any questions, you can freely consult Tinashe Hair's enthusiastic customer service.