Short bob wigs manufactured from actual human hair are known as short human hair wigs. They may be dressed in many different ways, and they are often shorter in length than other kinds of wigs. For people who desire a natural-looking, manageable wig, short human hair wigs are a fantastic choice. Every season and every year, hairstyle trends vary.
A short bob wig is necessary for any wig collection. When you'd rather allow another element of your outfit—like your jewellery, cosmetics, or dress—take centre stage in your ensemble, short human hair wigs are ideal because they're frequently edgy. We have a selection of short bob human hair wigs for spring and coming summer that are both stylish and of the highest quality available.
How short of the wig exactly can be called a short bob wig?
That is precisely what we can provide you now. Whether you're searching for a stylish, modern bob, a pixie cut, or a short, tapered style, we have a variety of short lengths available. Simply pick the style you favour from those we have created exclusively for you!
The majority of short human hair wigs often stop at your chin, avoiding your neck or shoulders. You can spend the remainder of the day doing the unique things you enjoy since our chic short human hair wigs are so simple to maintain and style. There is no need to waste time blow-drying your human hair wig or straightening lengthy hair for 30 minutes.
The smooth appearance of short haircuts for fine human hair wigs softens your attractive and distinctive facial features while allowing you to experiment with cutting and styling techniques. The rich, voluminous appearance of these short human hair wig designs complements any face shape and style. You may sometimes switch up your look by picking a short cut that is adaptable.
Get Halle Berry's appearance by styling your short bob wig with a decent natural gel. Just flatten certain hair strands with the gel while standing up other strands with the gel. The short hairdo will turn heads on probably everyone, no doubt about it!
Why should you try short bob wig in the spring and coming summer?
I. Using short bob wigs can change the way your face looks.
Although providing sophisticated style options and a trendy appearance, short human hair wigs may soften your appealing and distinguishing facial characteristics. All facial shapes and hairstyles complement the voluminous, rich look of these short human hair wig designs.
II. There are many lengths of short human hair wigs.
You may style your hair in a short, tapered style, a short, smooth bob, or a pixie cut!
III. Short bob wigs are easy to maintain and style.
Most short human hair wigs stop just below your chin and don't extend past your shoulders or neck. With these chic short human hair wigs, you don't have to waste time blow-drying your human hair wig or straightening your long hair.
Naturally, short human hair wigs may be straightened using a round brush and a blow-dryer or straightener. But always apply a heat protection spray to prevent damage to your gorgeous short hair wigs.
IV. Short bob wigs are ideal for the spring and summer.
You could choose to spend money on a unique short hair wig if you're a fashionista and a self-assured person for the spring and hot summer months. Mix things up with a trendy short hairdo that will attract attention. Wear this ensemble out and around to garner admiring looks from bystanders. Just wave and grin.
Enjoy the flexibility of a sleek neckline that accentuates your natural beauty by experimenting with short hair, whether it's spring, summer or winter! 
Advantages of wearing a short bob wig.
You'll change your mind on short bob wigs after reading this section, whether you've always had short hair or have just chopped it short. What then, makes short hairdo wigs so amazing?
I. Drying quickly.
Especially if you have long hair, washing it may be a truly torment. The idea of continuously blow-drying your hair or using curlers to at least give it some form is even worse.
These issues won't arise for women who choose to wear wigs or short hair because all it takes is a few quick passes of the brush through the hair to achieve the desired look. Short hair will quickly dry out as you get dressed and apply makeup if you're in a rush.
II. Your face will be highlighted by short hair.
Long hair may be associated with femininity, yet it frequently "eats" a person. This is frequently observed in persons with long hair and a tiny face. You will attract attention if we add a hairstyle that does not complement the contour of your face, but in the incorrect way.
Many onlookers could be perplexed because, if your hair is in the forefront rather than your face, you probably resemble the girl from the movie Scream. Short hair, on the other hand, will draw attention to your face's characteristics. Of course, it's crucial to pick a haircut that looks well on you in this situation.
III. They are more healthy.
This is real, strange as it may sound. Short hair is less demanding than long hair, as we've already established. Short hair will also sustain less heat damage than lengthy hair, saving you time spent on upkeep. However in this instance as well, it's crucial to consider the wig's styling before making a purchase.
IV. Short bob wig will draw attention to a bold evening makeup look.
Girls who want a change but lack the courage to make the change can use a very easy method instead: wear a short wig over their long hair, use makeup to accent your best features, and have an incredible time. A wig can be used as disguise as well as a temporary change of appearance.
V. They are attractive.
The days of hiding your face under a sea of hair are long gone. It's time to flaunt your cheekbones and make a statement! Your innate beauty is highlighted and brought to light by a pretty, short style wig, which makes you feel sexier, sassier, and more self-assured.
VI. They are fashionable.
You no doubt enjoyed seeing the celebrities at the Oscars walk the red carpet. This year, though, more than simply the stunning costumes caught people's attention. Then what? Pixie cuts and short hair, of course! And it's not just at the Oscars; celebrities worldwide, from Janelle Monae to Scarlett Johansson, are sporting the pixie cut. Indeed, short hair has returned, and it's more gorgeous than ever!
VII. Little upkeep is needed for them.
Hair care will no longer be a bother if you choose short bob wig. As a result, you will have more time to spend doing the activities you enjoy because short wigs dry and style much faster. free of hassle hair? Hello, please!
VIII. Wearing it you will not feel over heat.
By allowing the breeze to travel through your neck and scalp, a stylish short hair wig may keep you cool throughout the hot months.
IX. They help people save money.
Short style wigs are the solution if you're seeking for a strategy to cut costs! With less product and less damage, short wigs may help you save money in two different ways.
– A lesser quantity of the product: Simply said, using less shampoo and conditioner to make your wig gleaming depends on how short your hair is. As a consequence, hair product bottles last longer and you spend less money on your weekly shampoo run.
– Reduced harm: Short wig designs are substantially less exposed to the weather than longer hairstyles, so they last longer and are less likely to sustain damage (I'll not miss you, brittle, damaged hair). That's true, shorter wigs will stay stylish longer, saving you the expense of purchasing a new one.
As we've seen, selecting a short bob wig has a lot of advantages. Even if you are itching for a change but lack the courage to make one, a wig will be useful. It's a terrific move to take. It has happened that many ladies cut their hair after finding that a wig with short hair suits them better.
How are short bob wigs created?
The variety of bob wig styles is astounding! In order to get this kind of style, you need need a circular comb and a hair dryer. Remember that you may heat set human hair and heat-resistant synthetic fibres at a temperature between 270° F and 280° F using a heat styling tool.
To create volume and structure, use a round brush to blow the front of the hair backwards. Comb through the frontal area of the hair after it has cooled. Then, separate the parts by running your fingers through them lightly.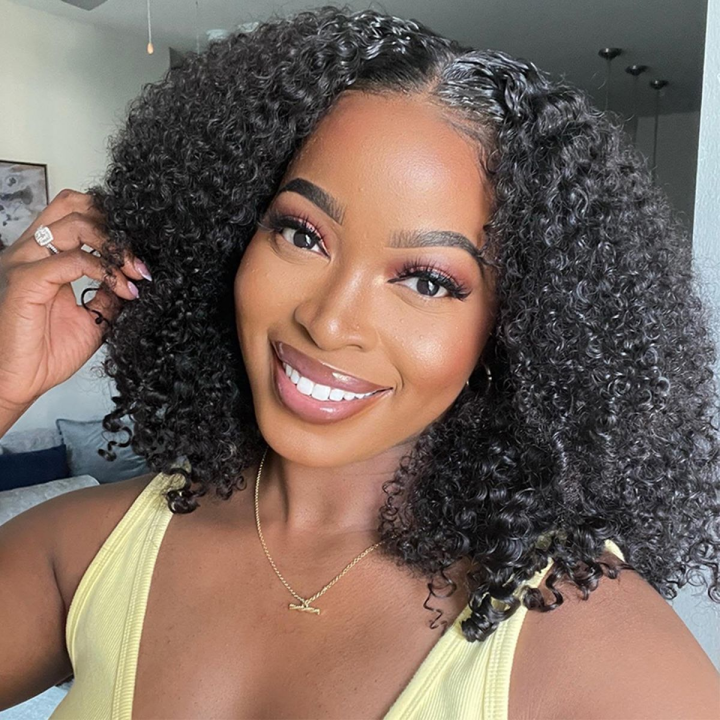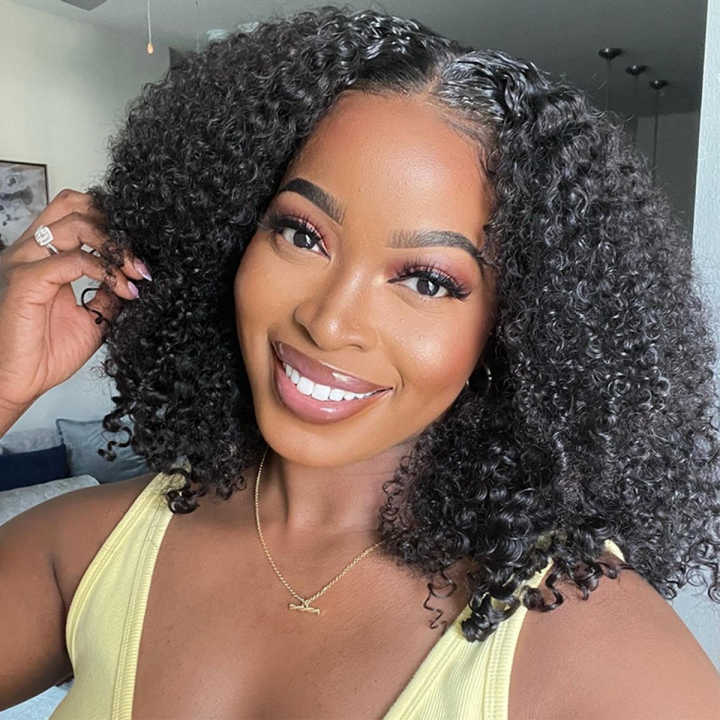 The most versatile style is the long bob. Almost any style may be achieved with hair that is in between short and long. Shampoo your wig to get this opulent appearance. Use a hair dryer once the wig has air dried 80% of the way. Use rounded brush! Wise styling tools are the key to all that volume.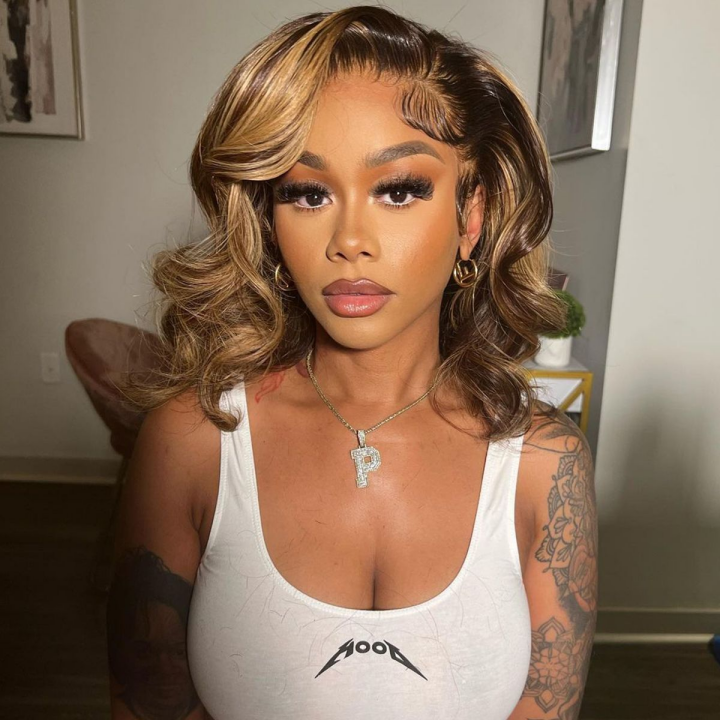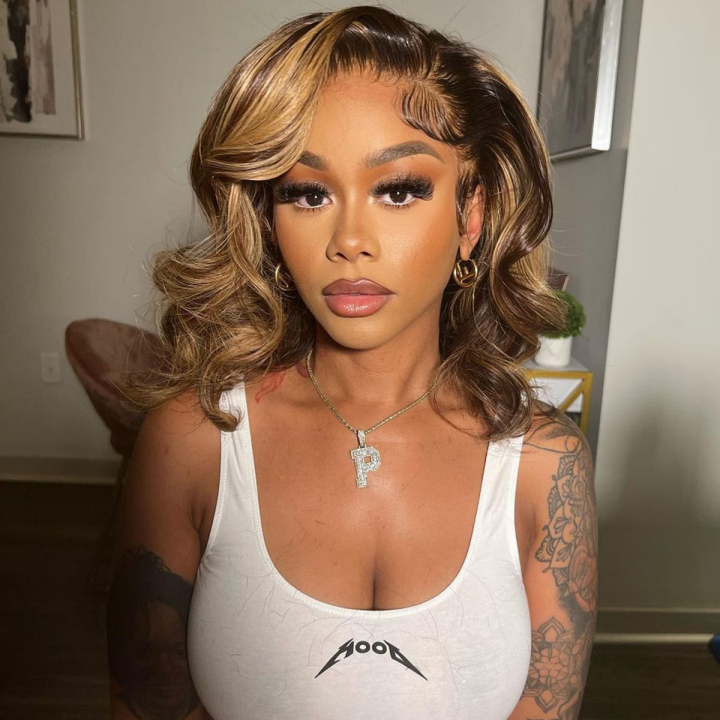 Shag style.
The shag is a stylish, layered cut with a tough appearance. Use these looks to compliment your own. Thanks to the careful cutting of the hair in respect to the edges and angles, this style is effortlessly stylish.
To show off those razor-cut layers if you're wearing a wig with Shag hair, chop it up into bits rather than flattening it. Unkempt, coarse hair gives off a seductive impression. To add a light wave, use flat irons or curling irons. Make a mess of your hair with your fingers once you've acquired the perfect wave. Try using a styling cream to increase hold. This style looks fantastic with curtain bangs if your wig is missing bangs, just go ahead have a try.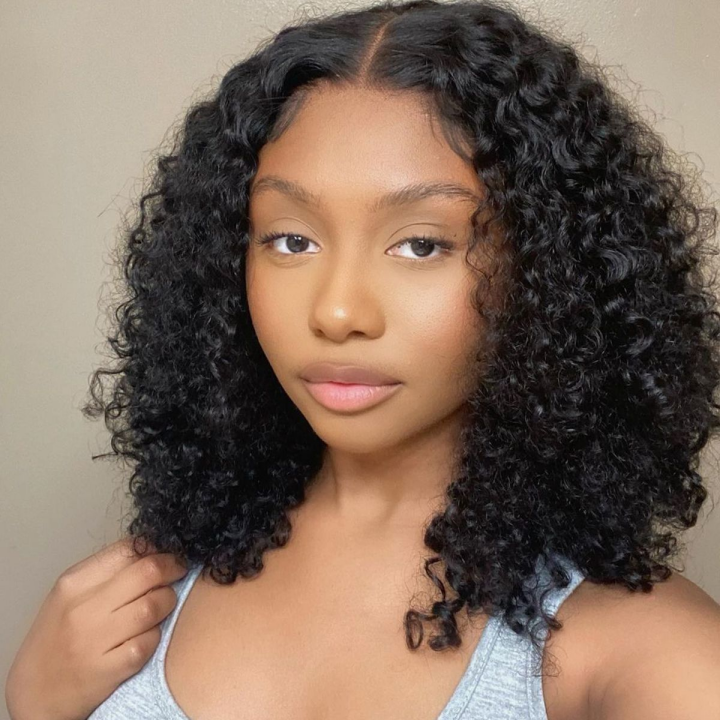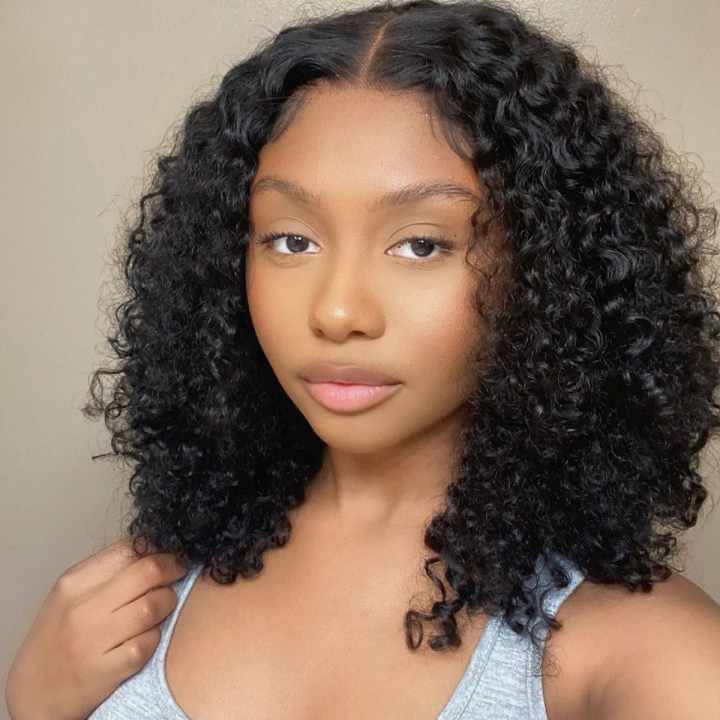 Pixie cut style.
For an effortless, carefree appearance, try adding texture to your pixie cut. Mousse or style cream can be used to somewhat mess up your hair, but don't make a big mess.
An elegant style is best achieved with a slicked-back pixie. If your wig is comprised of heat-resistant synthetic fibres or human hair, you may use a flat iron to iron the strands for a more polished appearance.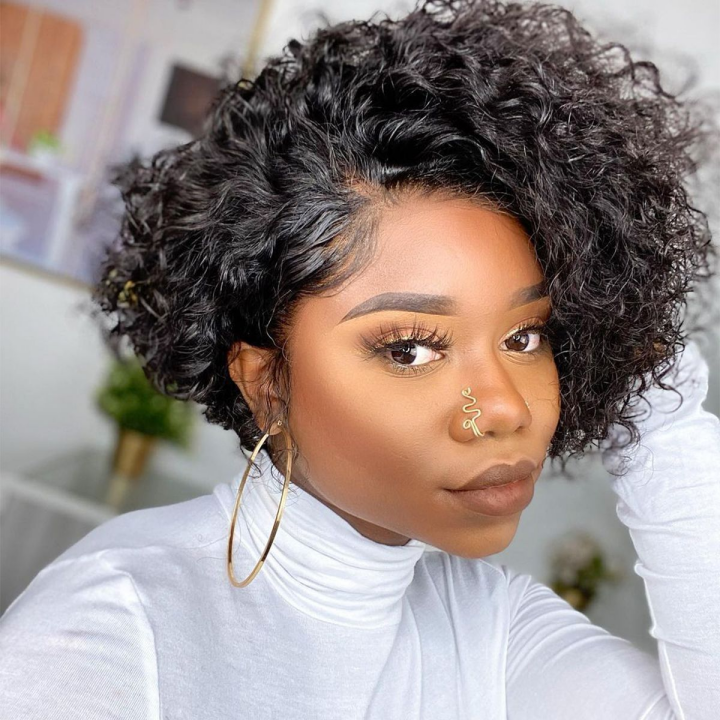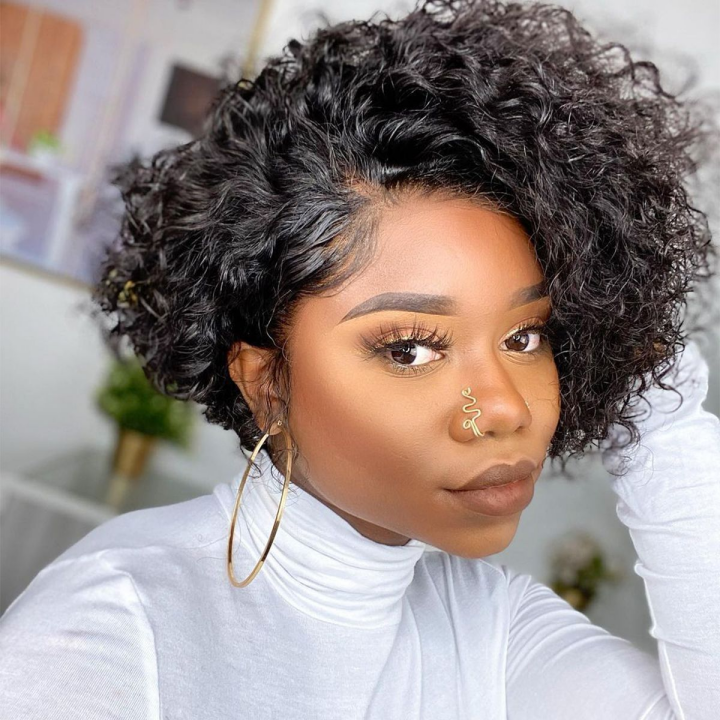 Summary up.
Possessing a short human hair wig will advance your wig collection, whether you like short hair over long (mid-back or waist-length) hair. The greatest short human hair wigs nevertheless provide adaptability, as do all real human hair wigs. You can be sure to get a short bob wig of superior quality that is worth the purchase with this selection of short human hair wigs in a variety of colors and styles.