The wig market has undergone a revolution thanks to glueless wigs, which give people looking for a new appearance an easier and more practical choice and instantly change the style of their hair without the need of glue or tape. With glueless wigs, changing your hair is quick and easy; you don't need to be an expert at putting them on.
Everything related to glueless wigs that you might find interesting will be covered in this blog, including but not limited to how they function, their advantages, how to wear and take care of them, etc.
What exactly is a glueless wig?
Wigs often come in two types: ones that need glue to stay attached to the wearer, and ones that don't. A glueless wig falls under the latter group, as its name indicates.
How precisely does a glueless wig stay in place?
Most of the time, these wigs include built-in combs, bands, or clips that may be used to secure them to your own hair.
Even better, glueless wigs come with a rear elastic band that can be adjusted to fit the wearer's head size and comfort.
The wig is kept firmly in place on your head by the adjustable strap.
Also, it enables the wig to rest comfortably on your hairline and scalp so that the clear lace complements your actual hairline.
The wig is fixed from ear to ear by the elastic band, which also prevents it from sliding or moving.
You won't need to worry about your wig falling out after a strenuous exercise or a busy day!
Unless you remove it on purpose, it will stay in place.
You may go about with the assurance that your hair is immaculate thanks to glueless wigs.
The thinness of the material in the cap of the wig provides for ventilation, and it is also quite pleasant to wear.
We adore glueless wigs because of their adaptability! In order to maximize comfort and prevent your hair from interfering with your busy day, they are developed to exactly suit the wearer.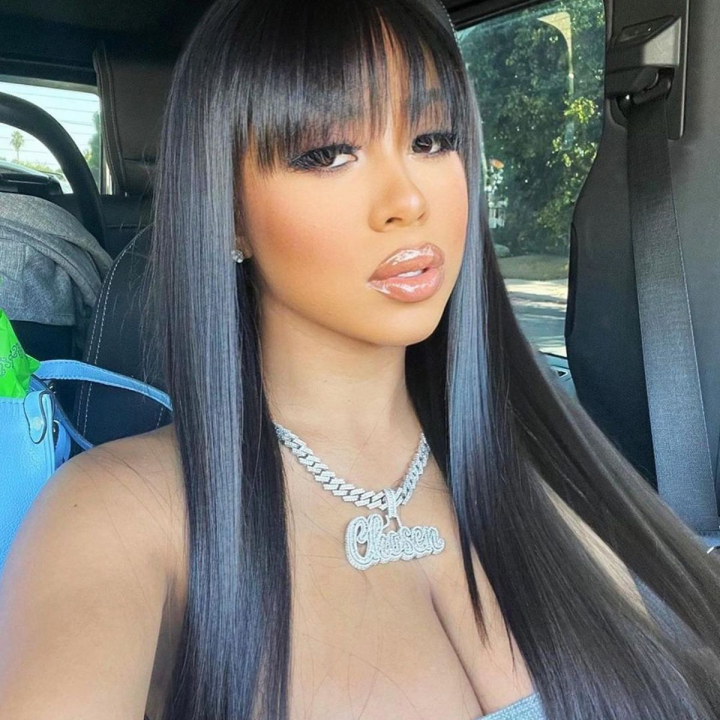 The advantage of glueless wigs.
Because to its many advantages, glueless wigs have grown more and more popular in recent years. The following are some of the main advantages of glueless wigs:
I. Cost-effective.
If you want a wig you can wear for a lengthy amount of time, glueless wigs are more affordable than regular wigs. With a glueless wig, you'll save money on the price of tape and sticky glue and won't need to make as many trips to the hairdresser.
II. Wearable with comfort.
The lace unit of a glueless lace wig is permeable and extremely comfortable to wear. It is smooth and light, so wearing a wig is quite similar to wearing your own hair, you will even not feel the wig's present.
III. No adhesive is necessary.
As there is no need for adhesive or tape, the procedure of installation or removing is simple and convenient. It expedites the installation process and makes the job simpler. By utilizing the combs and adjustable strap, you may modify it to fit your head comfortably and keep it in place.
IV. Natural hair is not harmed.
When removing other wigs that employ adhesive glue or tape, there is a chance that you will harm your natural hair. Your hair and delicate margins are readily damaged by the adhesive, which can also harm your follicles. Even if you wear your glueless wig every day, your natural hair will stay strong and protected thanks to glueless wigs.
V. Safe to your head.
Glueless wigs are risk-free since they don't employ tape or sticky glue, which can harm the scalp. For people with sensitive skin, glueless wigs are a fantastic alternative because there is no chance of skin irritation or allergic reactions. The scalp can breathe and the hair below the wig may move freely thanks to the smooth lace foundation. This means that a glueless wig aids in promoting hair growth in addition to protecting the scalp.
VI. Comfortable.
Wigs without glue aka glueless wigs are relatively simple to wear. It takes a long time to use glue or tape. Put the adhesive, let it become sticky, then wait for it to cure, the entire process can take a while. Combs, adjustable straps, or elastic bands are used to keep glueless wigs in place. In addition to removing the need for a stylist, this makes them simpler to put on and take off. A glueless wig will enable you to quickly switch up your hairdo whether you're leaving for work or going out for the evening.
VII. Simple upkeep.
Glueless wigs require no adhesive, making upkeep simple. The wig is simpler to wash and style, and there is no need to spend time eliminating sticky buildup.
VIII. Flexible in styling.
The styling options for glueless wigs are many and diverse. Its fashions range from long and flowing to short and sassy, and they come in a variety of materials, including human hair and synthetic hair. You have the flexibility to switch up your appearance whenever you choose with glueless wigs.
IX. The natural appearance.
As they don't require the use of tape or sticky glue, glueless wigs give off a natural appearance and feel. Your hair looks and feels natural since glueless wigs don't have any ugly tape or adhesive lines. As a result, they are a fantastic choice for people who want to switch up their hairdo without attracting attention to the fact that they are wearing a wig.
XI. Good for your own natural hair.
Glueless wigs enable daily removal so that regular hair care and upkeep may be performed. They have even been shown to encourage hair development.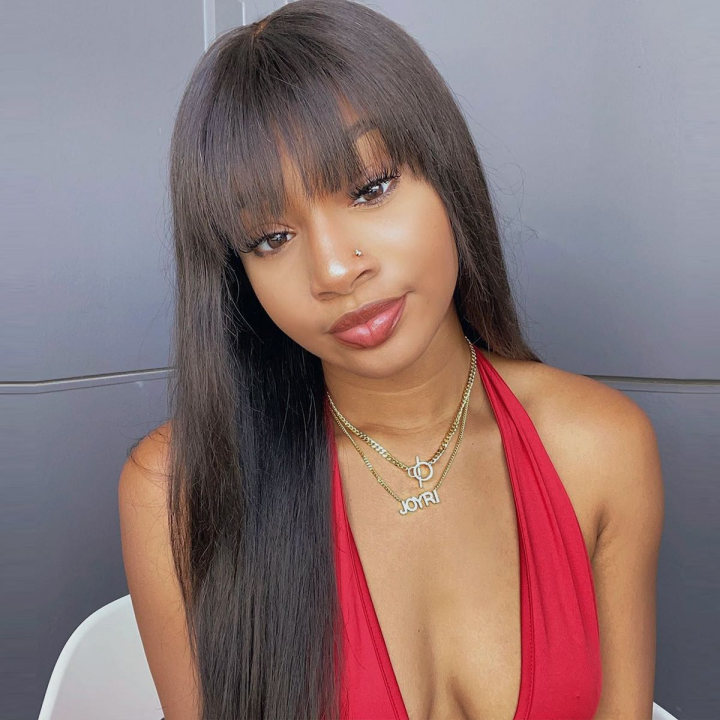 How to maintain a glueless wig properly?
Hair can be difficult to manage at times, but with the appropriate products and care, it can appear vibrant and healthy. Please read the following information carefully as we will provide you some advice on how to care for your wig's hair.
I. Regularly wash your hair.
Avoid skipping the cleaning. To have a healthy scalp, regular washing is required. In order to prevent depriving your hair of its natural oils, wash your wig hair once or twice a week with a sulfate-free shampoo or co-wash. After a thorough rinse, softly massage the scalp with your fingertips.
II. Periodically deep condition.
Regularly deep conditioning your wig hair is the only way to prevent it from becoming dry. To assist retain moisture and avoid dryness and breakage, use a deep conditioner or hair mask once per week. Apply the product to damp hair, paying particular attention to the ends, and let it in place for 15 to 30 minutes before washing.
III. Always moisturize.
Human hair can occasionally be brittle and prone to drying out when compared to natural hair. As a result, you need to spray water on your hair every day or apply moisturizer to the ends of your hair every day to maintain your wig hair moisturized and free of dryness. You may prevent breaking and broken ends, as well as dryness and frizz, in your wig hair by doing this.
IV. Cover your hair when you sleep.
The importance of nighttime hair care is generally acknowledged to be equal to that of daily care. Overnight protection for your wig hair can be provided with a satin or silk scarf or cap, which helps to keep moisture in and reduce friction. Try to avoid over-processing your hair before night since this might cause wig hair breakage.
V. Regularly trim the hair on your wig.
For wig hair to remain healthy, regular hair cutting is necessary. Trimming split ends regularly gets rid of them and stops them from spreading down the hair shaft. By eliminating damaged or uneven hair, it also aids in maintaining a uniform hair texture, giving your hair a smoother, healthier appearance. As a result, it is preferable to cut your hair every six to eight weeks.
How should your glueless wig be styled?
Let's look at how to style a glueless wig now that we are aware of how to care for one.
I. Protective styles.
Protective hairstyles like buns, twists, and braids can help keep your hair from becoming damaged or breaking. These designs also need less upkeep, which is ideal for those who lead busy lives.
II. Rinsing, then you are done.
For showcasing your hair's natural curl pattern, wash and go is the ideal option. Your curls will be longer-lasting and have better definition. To get this look, just wash and condition your hair as usual, then let it air dry.
III. Twist out style.
An excellent approach to highlight your curls and give them an extended appearance is to twist them out. Twist little parts of your hair overnight after washing it. To show sculpted curls, untwist the twists in the morning.
Glueless Bob Wig Super Easy Install & Review Tinashe Hair
Bottom line.
It is understandable why glueless wigs have grown in popularity among people wishing to change the look of their hair given their numerous advantages. You may go acquire a glueless wig to save time and simplify your hair job whether you're a novice or rushing to work. For all of your demands on various occasions, Tinashe hair provides human hair glueless wigs in a variety of hair textures, density, hues, and lengths. You may locate the appropriate one there for everyday use, a birthday celebration, a wedding, a graduation, or fashion week.