Are you still worry about that the lace color can't match your skin well when you plan to buy lace closure, lace frontal , lace front wig or full lace wig of virgin human hair? Maybe you don't know how to bleach the knots or you think it's too hard to bleach the knots. Now Tinashe Hair designs transparent lace in 2019. The transparent lace can blend better with your skin. It will give you a natural look even though looked from a close distance. So most celebrities and well-known entertainers use this type lace. Is it expensive than other color lace? You might think so at first. No worries, it's the same price with Medium brown lace, very affordable.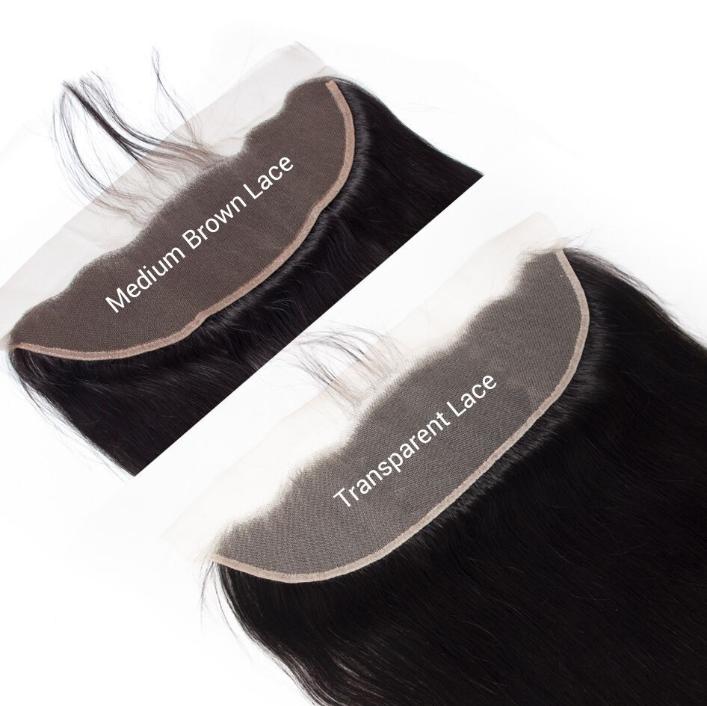 To provide customers real & natural look is our target. We have transparent lace for 4×4 closure, 5×5 closure , 13×4 lace frontal and 360 lace frontal. They all use top Swiss Lace as raw material. The transparent lace is minimum thin but sturdy. Our factory workers knot hair pieces on the lace one strand by one strand. When you cover it on the skin, even at a face-to-face distance, it's hard to find the lace grids. The closure and frontal are attached our front of the head, the hair looks like it grows out of our skin. It looks very natural and undetectable, amazing!!!
Top grade and technology, but the price of virgin human hair lace wig is very affordable . And it's easy to install and maintain. So the undetectable lace front wig and full lace wig of virgin human hair are more and more popular by black women.
Different peoples favor different lace color. Based on medium brown lace wigs, undetectable transparent lace wigs was more natural & suit for Black Women, it's more close your skin color and hard to see that you are wearing a wig when you go out. We supply many styles of our Transparent Lace Wigs, such as full lace wigs, 4×4 lace front wigs, 13×4 lace front wigs, 360 lace frontal wigs. If you want the lace color blend your skin well, order transparent Lace Wig was the best choice!
And there are more types for transparent lace closure, lace frontal and lace front wig, such as Brazilian Hair, Malaysian hair, Peruvian Hair,Indian hair, etc. And we also have different textures,such as loose deep wave, body wave, loose wave, deep wave, straight hair, kinky curly hair, kinky straight, etc. And our hair are all 100% virgin human hair, cut from young donors, tangle free and shedding free, can be dyed and bleached. For the hair life span, our hair can last one year even more with proper care. We also have excellent after-sales service besides top hair quality! So, what are you waiting for? Enjoy a special 8% discount for Graduation to give yourself a totally new look and feel.