Curly hair looks beautiful and charming, but sometimes you might need to straighten it in some particular occasion. As we know, no matter Brazilian curly hair, Peruvian curly hair or Malaysian hair, they are able to be straightened. However, curly hair is easy to frizzy and need more maintenance. So how do we straighten curly hair at home without damage it? With the right curling method, you can keep your straightened hair glamorous the whole day.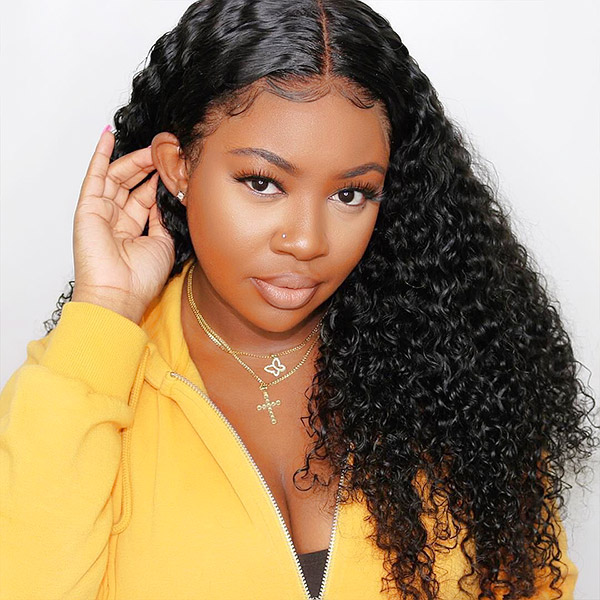 Here are some steps in details about how to straighten your curly hair, keep following.
Wash and condition your curly hair. U know curly hair is so popping and fluffy that it is not very easy to keep clean, which results in tangling easily. So, we need to wash it and condition it before applying the process of curling. Try to choose an anti-frizz or smoothing shampoo and conditioner to wash it gently.
Towel your wet water to squeeze the excess water. Try to use microfiber towel or cloth, it is easier to remove excess water. Please be as gentle as possible and avoid rubbing your curly hair as it will create fizziness.
When your hair is more damp than wet, use a wide-tooth comb to brush it gently from the tip downwards to ends. Or you'd better run your fingers through your curly hair to break up the knots and detangle it.
You need to apply some heat protectant on your hair. You are about to use some heat curling tools to style on your hair, so something needs to be done to protect your hair from damage. Smooth a little amount of straightening cream, balm, gel, or lotion throughout the hair to be ready for blow-drying and flat iron.
Divide your hair into several parts to make the blow-drying easier. You can use a round bristle brush to pull your hair carefully when you blow dry it. Please set the heat temperature suitable, if too high, it will damage your Brazilian hair. Once it is dry, don't worry to straighten it right now, set your blow dryer to cool setting and dry your hair again. Just be patient, cool setting blow dry will add shine to your hair.
Start to straighten it. Put the hair on the top of your head on a bun or use a clip to fix it on the top. Separate the rest half hair into small portion that is about 2 inches. Use a comb and put out this section hair as tight as possible along with your hand. Meanwhile, straighten this section hair from the top downwards to the ends carefully with flat iron. Then repeat it until this part of hair is straightened enough. Move forward on next section. When the final part is done, just unclip the top of your hair and continue to straighten it.

If all of your hair is straightened, use a handhold mirror to look at the back of your hair, make sure you didn't miss anything.
Notice: Use a low heat setting when straightening. The highest hot setting is only for professional stylist. Just control your temperature between 200 to 220 degrees.

Apply some a small amount of a silicone serum or spray for a smooth and polished look when the finish look is done. This will protect your hair from dryness or fizziness and make your hair smoother.
Tips:
Make sure to use heat protectant before applying the process of straightening.
Leave-in conditioner is a good choice to straighten your hair to keep it from dryness.
Don't use a flat iron setting over 220 degrees.
Hair maintenance is also needed after straightening. Take good care of your straightened hair as well.