Summer is coming, more and more women prefer to get a short length wig. The short human hair wigs are the ones that are not longer than women shoulders to bobs and boy cuts that have all kinds of short hairstyles…straight hair, wavy to curly.
Beautiful short hair styles, short bob hair wigs, pixie cut hair wigs, women are available from classic style to fashion, more modern look. For ladies with sensitive scalp or those who just want a more comfortable wig, we Tinashe offer short bob styles wigs or other short human hair wig with transparent lace fronts or medium brown Swiss lace fronts.
From pears to diamonds and round to square faces, short hair wigs do wonderful work, automatically enhancing your natural beauty appearance.
That's right. A wig doesn't mean that something can cover you up.
Their real purpose is to complement the way of your look.
That is the reason that it is so important to think carefully about what kind of wigs you want in the first.
When you plan to buy a wig, it is not just a thing to choose the wig that you think will fit you best, but the wig that will look best when you wear it.
For example, if you have more heart-shaped faces, then it is better choice to be with longer human hair wigs.
You should also think carefully about the color of the wig you might be interested in.
Again, it's not just about which lace frontal wig has your favorite hair color.
You should choose the human hair wig color that most complements or emphasizes your natural skin color.
After you decide that short style hair wig is the best for your face shape and everyday needs, and choose the best color for your skin color, you are sure to have fun when you choose short hair styles wig from our Tinashe hair.
For example, if you're looking for a cuter, lighter, or more vivacious look, a curly human hair wig might be the one what you just want.
And since you're a social animal, you may be enjoying having a variety of short hair wigs on hand, so you can be convenience with your hair styles.
You can choose a straight short Bob wig to wear in a professional setting, such as during the day in the office, and then you can wear a short Curly BOB wig for your cocktail and a dinner date.
When so many people have to complete expensive permanent customized procedures done, all you have to do is to buy a short hair wig from our Tinashe hair.
https://www.tinashehair.com/product-category/wigs/bob-wigs/
Our Tinashe hair offer short hair wigs and normal closure wig, frontal wigs with about 7 different textures.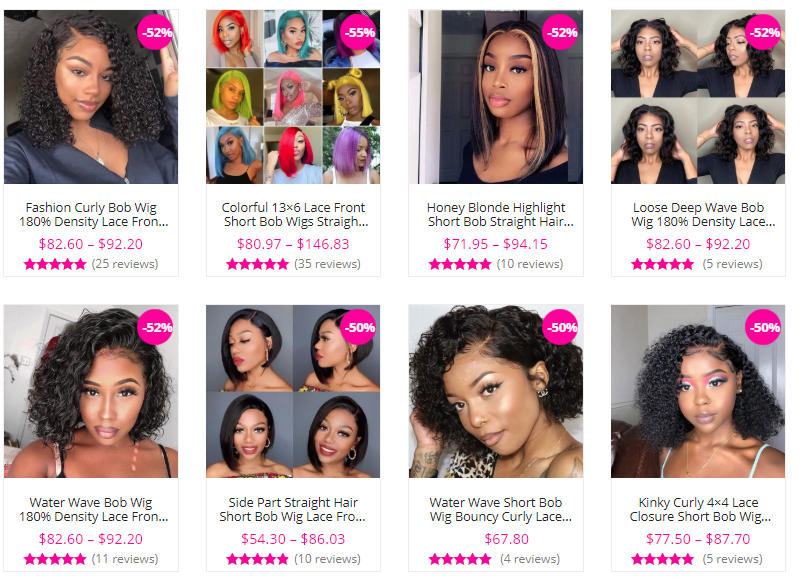 Buying hair wigs from our Tinashe hair, you will find enhancing natural look has never been so relaxing and fun.
Welcome to Follow and Share our Tinashe hair, you will get surprise.