You may choose the Tinashe Hair spring short wig on the popular wig store in the spring of 2023. The spring of 2023 will arrive before you realize it. When you think of spring, what comes to mind? A springtime outing, a picnic, which is a springtime staple, etc., as well as the embodiment of beauty. A real human hair short wig is necessary to showcase your attractiveness in the spring so that you may garner attention and highlights in numerous areas. Come and discover out which wig company's product can produce such an impact; it must be Tinashe Hair.
Why choose for short hair wigs?
The ability to pair short hair with various outfits for various situations is one of the nicest things about short hairstyles. Furthermore, short wigs are widely accessible in a variety of colours and lengths, so you will undoubtedly find one that meets your preferences and enhances your appearance.
Top 5 natural-looking spring short wigs.
Straight Human Hair 13×4 HD Lace Front Short Bob Wigs
Wig style: 13×4 Lace front bob wig.
Hair Texture: Straight.
Lace: Real HD Swiss lace.
Density: 150%.
Hair color: Natural black color.
Cap size: Average size 22.5″ adjustable size for most people.
Hair material: 100% Human hair from one donor.
Wig service life: One more year with proper care.
Making sure you select a contemporary, high-quality alternative is important as you hunt for the ideal natural short appearance. The Tinashe Hair short wig will subtly change the way you look and has received over 1000 excellent reviews from genuine customers.
This fashionable bob wig features a lovely cut, unlike your conventional bob. The hair lifts your face for a pleasing fit with its angular flow. With this smooth, opulently cut, get ready to impress passersby.
You will adore how silky and shiny each strand of hair is, with 100% virgin human hair that has never undergone any chemical processing. With three realistic density choices to select from, this wig's shine will not only astound you, but it will also give your new style enough of volume to wow onlookers.
Additionally, the density is realistic throughout the entire hair unit. You'll be delighted to learn that your new short wig has a pre-plucked hairline when it comes, saving you a ton of time by eliminating the trouble of laboriously removing strands off the edge of your wig. The hairline immaculate meltdown will have your friends questioning if you chopped your hair when worn with premium lace.
Also accurate to length is the bob from Tinashe Hair. This lovely lace wig comes in 4 choices, ranging in length from 10 to 14 inches, so you can customize it to your taste, whether you like your bob as near to the ears as possible or with a little length for definition.
It's also simple to style. You are able to separate your hair as you choose with a 13×4 lace frontal. Wear it straight out of the box, add some curls, or even colour it! Create your own hair masterpiece as you choose; the possibilities are endless. You'll wonder why you didn't get this wig earlier when it doesn't tangle or smell.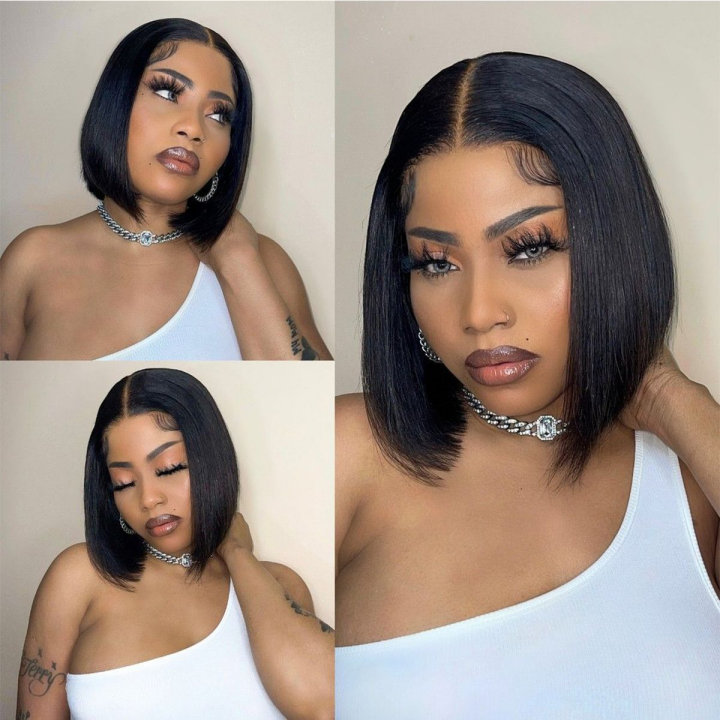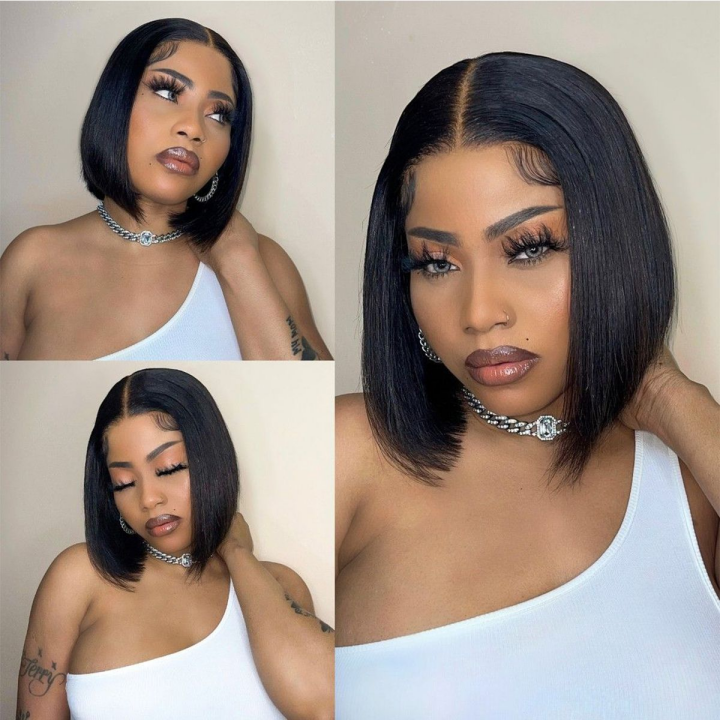 613 Blonde Straight Human Hair Lace Front Short Bob Wigs
Wig style: 13×4 13×6 & 4×4 Lace front wig.
Hair texture: Straight.
Lace: Undetectable Swiss lace.
Density: 180%.
Hair color: #613 Blonde color.
Cap size: Average Size 22.5″ adjustable size for most people.
Hair material: 100% Human hair from one donor.
Wig service life: One more year with proper care.
Both American and African American ladies can wear the blonde hair wig. It draws a lot of attention. Therefore, this bob wig is a great option if you want to attend a party and want to stand out. After all, practically every woman fantasizes of having gorgeous blonde hair. It is made in sizes between 10 and 14 inches, and bleaching is no longer necessary. Because blonde hair is heat-resistant, you may style it with a flat iron.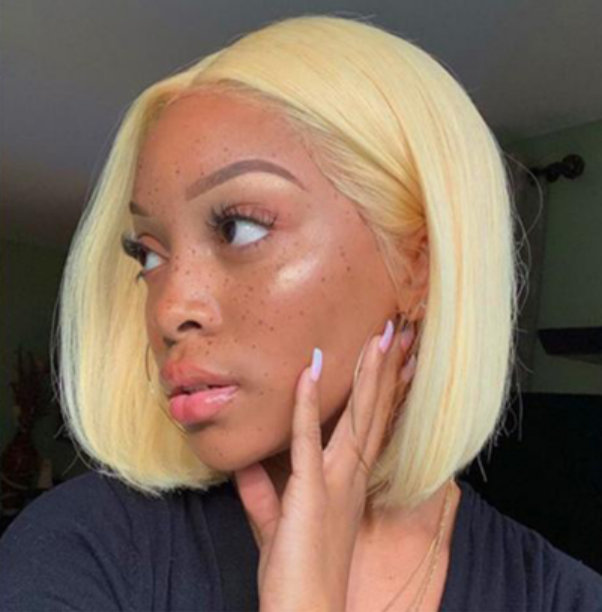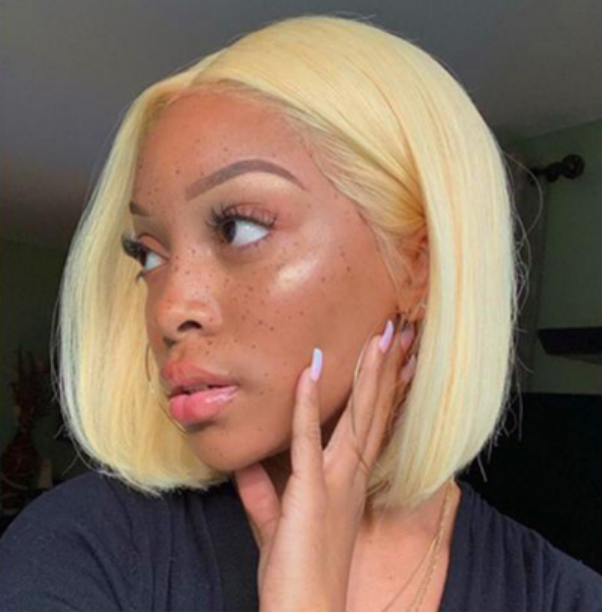 Straight Hair Short Bob Wigs with Bangs 150% Density
Wig style: 4×4 13×4 Lace front wig.
Hair texture: Straight hair.
Density: 150%.
Wig length: 8 inch, 10 inch, 12 inch, 14 inch.
Hair material: 100% Virgin hair from one donor.
Hair color: Natural black.
Can be dyed: Yes.
Lace: Swiss lace.
Hairline: Pre-plucked natural hairline.
The "lob" hairdo is the ideal compromise if you've been itching to test out a new short cut but yet want to keep your inches. This hairstyle, which is essentially a long bob, offers layers for days and adaptability you'll adore. With this straight hair short bob wig, you may flaunt a year-round look while standing out effortlessly.
You'll like the realistic hairline that this natural layered-edge wig also features. Additionally, you don't need to be concerned about your hair being tangled when you style it. Each strand of hair has a natural colour and is made of 100% virgin human hair, which is pleasant to the touch and has a natural appearance.
Your lace front wig should arrive true to density with the thickness 150%, giving the entire unit a complete and realistic appearance. You'll wonder why you waited so long to attempt a long bob when you wear one of these short wigs that seem natural one day!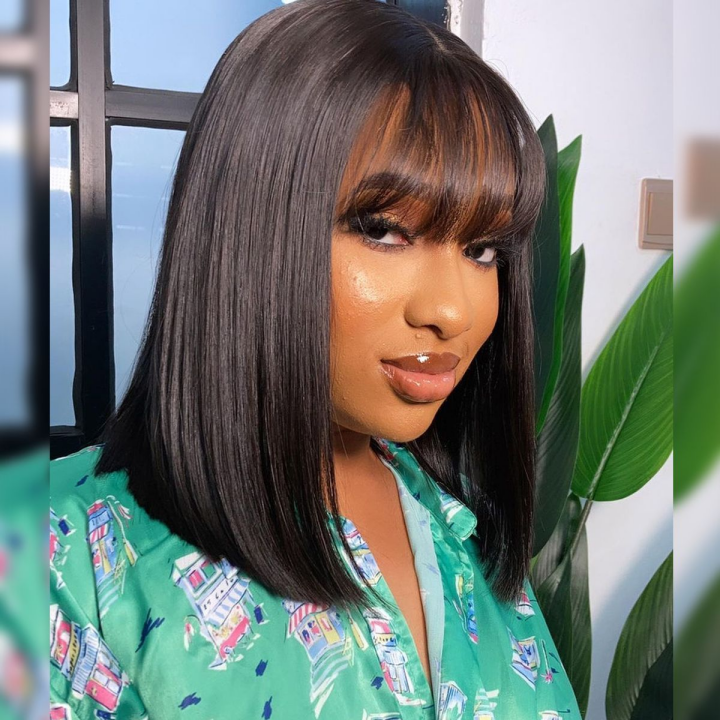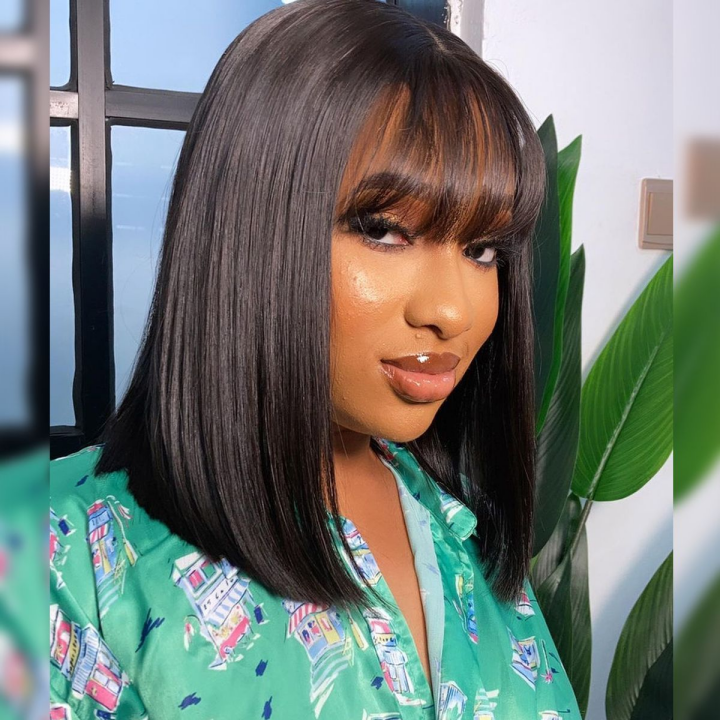 Throw On & Go Glueless HD Lace Front Wig Deep Curly Short Bob Wig
Wig style: 5×5 & 13×4 Lace front wig.
Hair texture: Jerry curly.
Lace: Undetectable Swiss HD lace.
Density: 200%.
Hair color: Natural black color.
Cap size: Average size 22.5″ adjustable size for most people.
Hair material: 100% Human hair from one donor.
Wig service life: One more year with proper care.
Do you require a quick appearance that you can easily switch up during the week? The deep curly wig itself offers you a variety of seductive styling possibilities!
The appearance you can get with this wig is one that no one will ever guess isn't your real hair. You'll first notice that this short bob wig has 'layered edges' for the desired "growing from the scalp" look and invisible transparent lace front. Additionally, this wig is 100% Virgin human hair that is voluminous, full of shine, and natural in colour. It is also quite convincing since the hair has a blow-out-like texture.
Show off your brand-new tresses while enjoying quick, simple two-way styles. For a few days, wear it straight to rock the traditional bob, or entirely change your appearance by adding adorable curls to your hair. In only a few minutes, you may experience a smooth, defined curl with a few water sprays! Installation is simple and easy thanks to the glueless cap and adjustable straps. This is ideal if you frequently find yourself pressed for time but yet want to seem like you spent hours getting ready your hair.
It is true to density with a thickness of 200% for your lifestyle. Keeping it short and sassy with 12 inches, choosing shoulder waves with 14 inches, or choosing from 2 different options in between are all true to length. Regardless of your preferences, this bob wig is effective!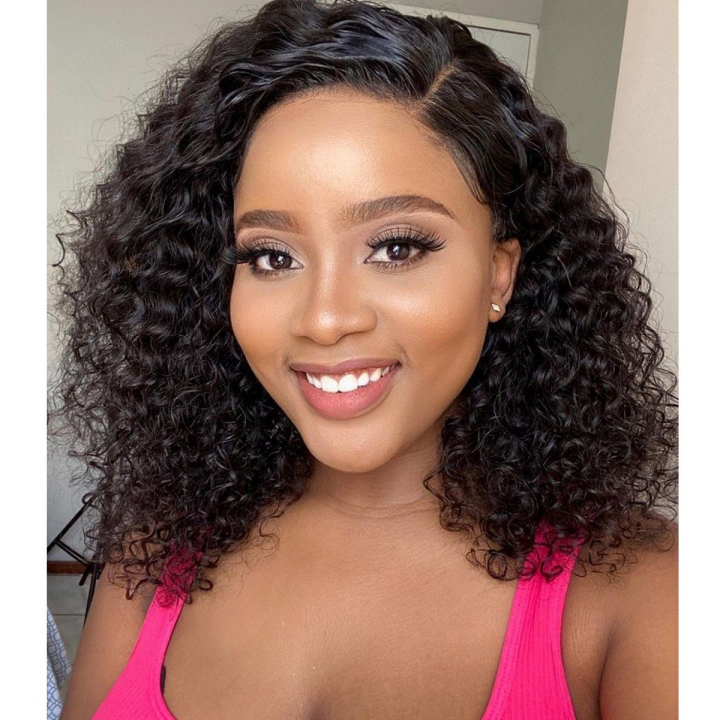 Pixie Cut Water Wave Short Bob Wig Bouncy Curly Glueless Lace Front Wigs
Wig style: 13×4 & 13×1 Lace front wig.
Hair texture: Water wave.
Lace: Undetectable Swiss HD lace.
Density: 180%.
Hair color: Natural black color.
Cap size: Average size 22.5″ adjustable size for most people.
Hair material: 100% Human hair from one donor.
Wig service life: One more year with proper care.
The pixie has been attracting attention for decades, let's face it. Why would it be different this year? In no time, you'll be showcasing this timeless, edgy look to family and friends thanks to the pixie cut water wave short bob wig!
You'll appreciate having the freedom to style your hair as you choose because it is made from 100% virgin human hair. Add some curls to highlight the texture's smooth, shiny appearance. With a 180% density, this short lace front wig looks real and boasts a ton of volume. You'll be happy to see how lush, thick, and non-shedding this hair unit is when it comes true to density. Profit from matching silken smoothness.
You are able to separate your new pixie cut wig as you choose thanks to the premium 13×4 frontal lace. Prepare for a smooth meltdown, a hairline that is immaculate, and edges that will give you a look that nobody will ever guess isn't your own.
This look is ideal for the busy, energetic woman who doesn't want her active lifestyle to compromise her stunning appearance. This pixie cut lace front will have you channelling your inner Audrey Hepburn with no upkeep, with 8-10 inches of length and adjustable straps on a handy clueless cap!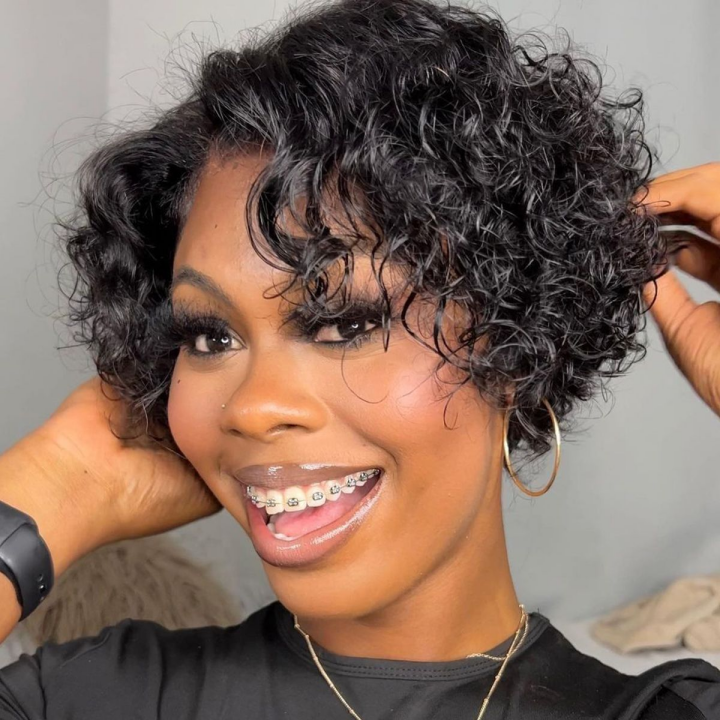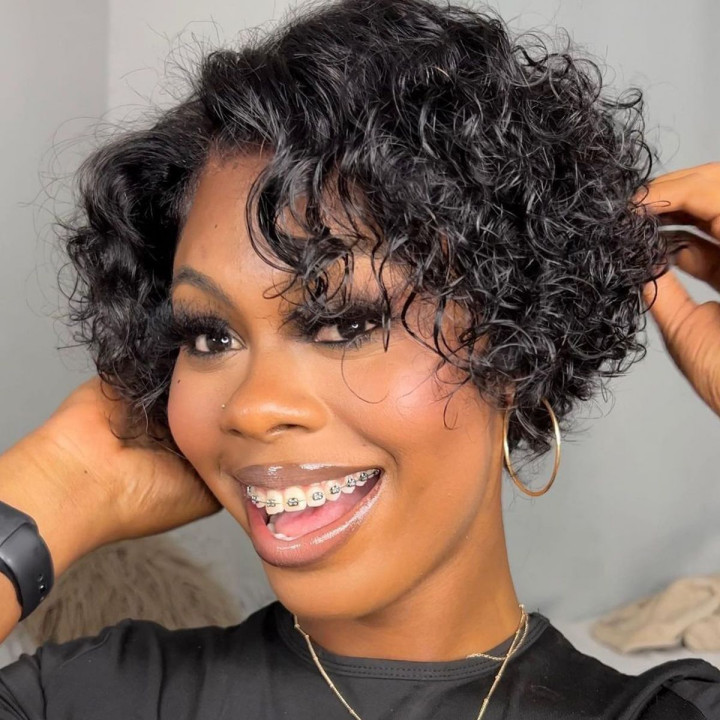 There are five good reasons to try short wigs.
Short wigs will always be fashionable.
Imagining Halle Berry Jennifer Lee Curtis Rihanna too! Since the 1920s, short hair has become a widespread trend. Each classic shortcut paved the way for the one after it. Any short style you decide on will be right on trend as long as your lace wig seems natural.
Cheap short wigs are available.
Not only will you save money by reducing the number of salon visits and the amount of hair care products you buy, but short wigs are also less expensive than lengthy hair pieces. Additionally, shorter wigs survive longer than longer ones do. This implies that if you maintain your hair properly, you may keep your gorgeous hairstyle for several months. If you truly know what you're doing, it may even take years!
A "sneak peak" of the huge chop is provided by short wigs.
Are you contemplating a haircut but worried about the results? You question, "What if I don't like it?" As you should, as you will have to wait for your natural hair to grow back if things don't go well. You may test how your face will look with short hair by wearing a short wig. It's far simpler to remove your wig if you don't like it than to wait for your hair to grow!
Short wigs are durable.
This sort of wig does not readily snag or get in the way during activities because the hair is not hanging low. This is only one of the numerous factors that contribute to short wigs lasting longer than long wigs. If you follow the right washing and storing procedures, you'll be fine to go for many months.
Short wigs require less upkeep.
Did we mention how simple it is to maintain short wigs while we were talking about appropriate maintenance? Long hair units need to be styled at the end of the night with braids, hair rollers, or tucks to keep them looking good. Short wigs are easier to toss away. Because the tresses are short, styling also requires less time and work. You'll like maximizing your morning time. 
The greatest spring short wigs are available at Tinashe Hair.
If you pick the right short wig, they may make for a beautiful haircut. The bob haircut is stylish, cozy, lovely, trendy, and it also exudes confidence. Because of their sturdiness and comfort, people adore them. However, because they are available in a variety of styles, hues, lengths, and thicknesses, picking the best bob wig may be fairly difficult. You must thus be aware of your face shape in order to get a bob wig that flatters it. For individuals with hectic schedules, those who want to switch up their hairstyles regularly, and even those with hair issues, wigs are a fantastic solution. You may get a variety of lace wigs from Tinashe Hair at www.tinashehair.com, including straight, curly or wavy wigs, lace or no lace, glueless wigs, long or short human hair wigs, and other wig kinds.
This wigs' natural-looking style options include coloring, dyeing, and perming. A lot of individuals like wearing human hair wigs. Women may become gorgeous and self-assured with a range of hair wigs. More significantly, it satisfies women's greater quest of beauty. This sort of confidence helps them live better lives. Why not get one for yourself instead? You can meet a better version of yourself! Because you are deserving of it. I almost forgot, whenever you come our web, use the coupon code gad20, then you can get 20% off.