As we all know, human hair wigs has the biggest advantage that it can be dyed easily without damaging comparing with synthetic hair wigs. Are you struggling to find a better way to get a variety of beautiful colors in this summer by avoid hurting your hair? What do you need to pay attention to while you are dyeing your hair? Keep reading the following steps, you may also achieve gorgeous color at home.
1. Preparations
Before dyeing your human hair wig, you need to wash it thoroughly to make sure every strand is cleaning without any dirt or oil. Just leave it air dry or blow dry it to completely dryness.
In the dyeing process, you might need hair dye, 20 volume hair developer, mixing bowl, rubber gloves, wide-tooth comb, color brush, mixing spoon, wig stand, shampoo and conditioner.
2. Mixing hair dye
◆You can get hair dye in your beauty supply store. Please remember to choose dark hair color as dyeing your hair to dark color is much easier than bleaching to light color without damage.
◆You can try to use 20 volume hair developer, a lower volume developer might be too weak, otherwise it would be too dark. So 20 volume is the best choice.
◆Put on your rubber gloves to protect your hands from hair dye corrosion.
◆Read the instructions on hair dye to see how much you need to combine with hair developer. You'd better to use a plastic bowl to mix hair color instead metal since it might change hair colors.
◆Mix your hair dye and 20 volume developer thoroughly with a mixing spoon.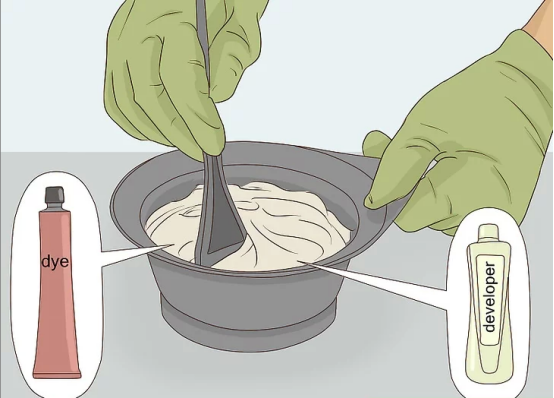 3. Applying the dye
◆Put your wig on a wig stand to secure it steadily.
◆Brush your hair with wide-tooth comb gently to make sure there is no tangling or knots. Separate your hair into several sections.
◆Using hair color brush to apply hair dye bit by bit. Make sure all strands of hair are covered by hair dye.
◆Then using a wide-comb to brush your hair from the top downwards to distribute hair dye evenly.
◆Leave your hair dye on your hair for about 30-40 minutes or you can check the directions on hair dye box. If you are not sure how long you would dye, just check the color whether it reaches the right color, if so, just wash it.
4. Washing the hair
◆Use a color-safe shampoo to wash your wig gently. Place your wig into warm water to clean your wig and get rid of any excess of hair dye.
◆Once cleaning, applying conditioner to your wig, which will make your wig look shine and smooth. Then rinse out the conditioner with warm water.
◆ Put your wig on a clean towel to remove the excess water. Put your wig onto a wig head if necessary and let it air dry thoroughly.
Then you will be surprised what a great job you did!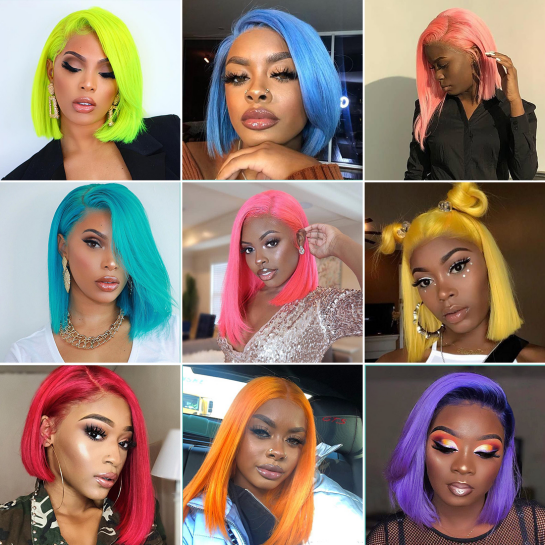 Tinashe Hair has all kind of different color bob wigs, you can also get one directly and slay yourself easily without dyeing.