Today we will do an honest review for Tinashe deep wave full lace wig as well as the tutorial on how to install a full lace wig. Just keep reading.
Let's open the package of Tinashe Hair, there are a cute mirror and a card along with the gorgeous wig. This is a deep wave full lace wig, there are four combs inside, the hairline is pre-plucked and I love the beautiful curls so much. I'm actually liking the color of lace, it is not light color, I felt like it's a nice brown lace.
Let's preparing for installing.
Wear A Wig Cap
I'm going to use 91% rubbing alcohol just to clean the area where I lay lace, so this is not a quick install, this is a bald cap method. I just put the stocking cap and past my ears then I cut a hole in my ears, this just helps to lay the cap down by your ears a lot better and won't life as much.
Then use a got 2b glue free spray and I'm going to use the scissors, they are trying to help it from dripping down from my forehead. Spray it going around the perimeter of forehead. Once it is dries, go ahead to cut off the cap that didn't get sprayed down. Then I'm going to add some makeup onto the cap so that it blends with my forehead. I prefer to use a powder, it is not messy and easy to match with my skin tone.

Put On The Full Lace Wig
Place your the wig on head. I will be using lace glue today, it's a stronger hold on. Place it right there in the middle and spread that out evenly. I use a total three layers, you need to wait each layer to dry clear before you apply another layer.
Glue Down The Lace
Once the layer is dry, I'm going to cut the lace starting in the middle then cut off the sides. Once I got all the excessive lace cut off, I'm going to tie it down with a wrapping strip and just let the glue continue drying down. While it is dry, I'm going to put some curling mouse and I want to set the side part into place, and I'm not going to disturb the curls at the bottom because they look really good out of the package. Then I'm going to get a nice straight part line and add some powder into the part so that it can stand out more and again it helps look more natural.
This is the final look. I think the lace is really melted into my skin and one think I noticed about the lace, it is brown color so I felt like it matched me well that I just didn't do any major adjustment to the color of the lace and matched really nicely. As I mentioned this is a full lace wig so you can part it anywhere that you want, you can tie it up as a ponytail, very versatile, it is 24 inch now, the wig cap fits me pretty well.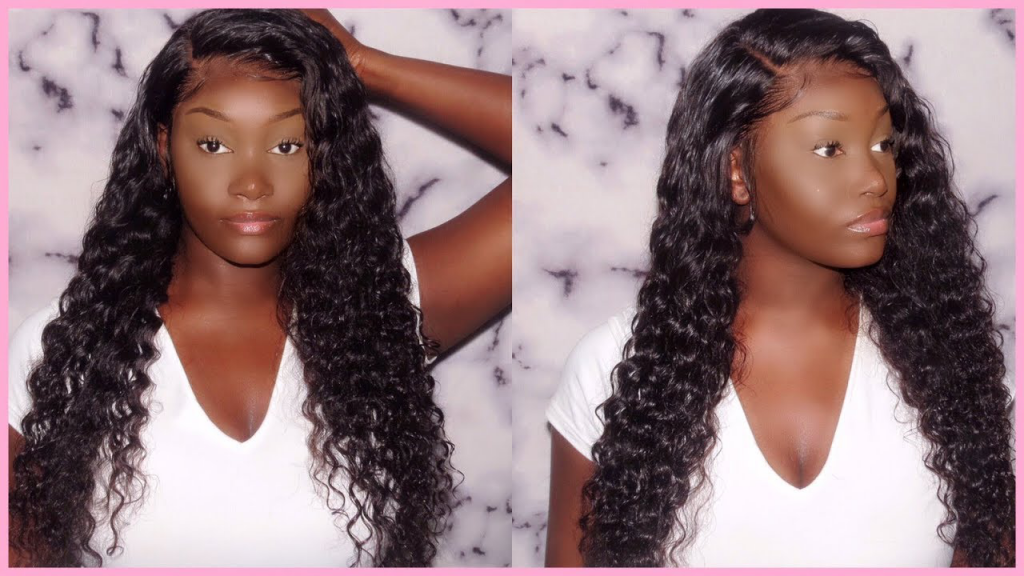 Check the video get more details:
There are difference kinds of lace wigs in Tinashe Hair, a variety of hair texture can meet your demand and give you a refresh look in Autumn.