If you have been wearing human hair extensions, you should be familiar with the words "single drawn hair" and "double drawn hair" that are particular for human hair bundles. Some of our customers also have the same question and inquire about it. So what does that mean? No matter you've been shopping human hair for a long time or beginner to it, you need to know about this. Let's explain them clearly.
What is single drawn hair?
Single drawn hair extension is collected from one single donor and it contains a combination of multiple hair lengths. So each hair strand barely has the same length, which results in thick at the tip then tape off downwards and thin at the ends.
Most of hair manufacture produce single drawn hair including vast of hair extensions in hair market due to the limit of production cost. For example, when they produce one bundle 18 inch straight hair, they will mix about 70% shorter hair than 18 inch to sew into the weft, maybe there is only 30% 18 inch hair in this single bundle. That's the reason why some hair bundles look thinner at the ends.
For most customers, they don't assume single drawn hair quality since they choose hair extensions just to extend their own hair and let it look natural. As you know, with our own growing hair, not all of strands come in same length. That's why some of them prefer single drawn hair just want a natural look. So, if you love a natural finish, single drawn hair also is a great choice.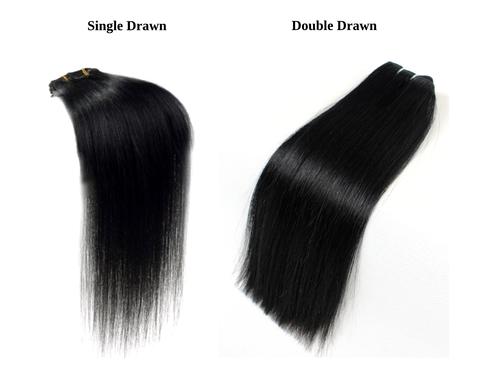 What is double drawn hair?
If you have known the single drawn hair, double drawn hair is easy to understand. That is to say, double drawn hair contains almost all of the same length to ensure hair bundle is thick. So if you order one bundle 20 inch double drawn hair, that means it might have almost 70%-90% real 20 inch pieces and only 20% shorter hairs mixed. Remember, double drawn hair are collected from different donors to be placed into the weft to make sure the same length.
So double drawn hair is much more expensive than single drawn hair. But you will get a bundle that is thick enough from the top to end. Double drawn hair is rather quality hair that is worth to invest no matter on quality, volume, beautiful looking and longevity.
Now it's your turn to decide which one to choose after learning the difference between them. If you don't want to spend much money, single drawn weft is a good choice. And if you want to invest a quality hair to last longer, you'd better choose double drawn hair.